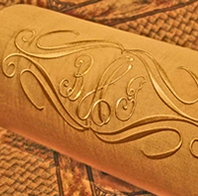 Downloadable Fonts For Monogram Wizard!
You asked for it!  The Monogram Wizard Downloadable Alphabet Store allows new Alphabets to be used immediately after download. Just select the font that you want, check out - and within seconds that Alphabet will be available in the Monogram Alphabets "drop-down" menu of your Monogram Wizard or Monogram Wizard Plus. New fonts will be added all of the time!
Browse the store and check out all of the new fonts! All of the Alphabets shown work with the Monogram Wizard family of products and are completely scalable. All the Alphabets can be tuned to provide optimum performance and quality regardless of the fabric on which they are sewn.
PLEASE NOTE: These Downloadable Fonts for Monogram Wizard CANNOT be used by any other software.
100% Scalable Alphabets!
Ever tried to piece together a name by sorting through 26 or 52 different embroidery designs of letters? FRUSTRATING! How many garments have been ruined by misaligned letters and poorly digitized work? We can help end that frustration! With the needleheads Alphabet Technology you will never have a sizing problem because all of the Alphabets are 100% Scalable. So what does that mean? That's just fancy talk that tells you that you can make your letters as big as your machine will sew and still achieve the amazing stitch quality you have come to expect from the Monogram Wizard & Monogram Wizard Plus!
Ready to download some new fonts for your Monogram Wizard or Monogram Wizard Plus? CLICK HERE!